Ken's Chinese Restaurant Sponsors February Hot Meal for Homeless
February 4, 2016 in Community, Donation, Social Assistances by llcs
Thank You to Ken's Restaurant (南軒中西美食) for their generous support to LLCS's in coming Hot Meal for Homeless on Feb 20, 2016.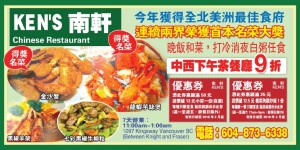 In 2015, Lotus Light Charity Society Hot Meal for Homeless Program distributed warm meals to the homeless every month at Oppenheimer Park of Vancouver DTES. Thanks to all our corroborative and individual sponsors, we are able to continue this program to help those less fortunate in our community.
Thanks to Ken's Chinese Restaurant for their incredible sponsorship to sponsor the February Food Distribution.
LLCS collects donations to sponsor this project to feed over 200 homeless each month throughout 2016!  Sincere thanks to everyone's ongoing supports!  If you would like to make a donation, please contact llcsvancouver@gmail.com or call 604-685-5548 today. You could also use PayPal or credit card to donate online.