LLCS March Meal for Homeless Program Provides Warm Meals in the Cold Rain
March 13, 2017 in LLCS Programs, Social Assistances by webmaster
LLCS March Meal for Homeless Program Provides Warm Meals in the Cold Rain
On March 11th, 2017, Vancouver Lotus Light Charity Society (LLCS) hosted its monthly free lunch event for hundreds homeless and underprivileged. Despite the heavy rain, many people gathered at Oppenheimer Park to enjoy the food and drinks prepared and served by a dozen of the charity's volunteers.
This is the third Hotmeal event for the year, once again, the event was organized by Master Lian Tzi, President of LLCS. This month, the menu consisted of five flavours of noodle bowls paired with Spam luncheon meat, fruit juice, cookies, and bakery goods donated by Terra Breads, Nesters Market Yaletown and Save-On-Foods Bentall St.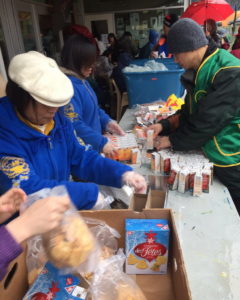 "Meals for the Homeless" has been running for the third year, and has now become a popular program among residents of poverty area of Vancouver's Downtown Eastside. Over the years, LLCS has consistently brought variety, quality, and appeal to its meals served, and this would not have been possible without the generous donations from our sponsors, the help of Oppenheimer Park staff, and the time and hard work of our volunteers.
The Charity's "Hot Meals for the Homeless" program will continue once a month at the Oppenheimer Park throughout 2017. We welcome donations of any amount to support the lives of our impoverished fellow residents. Donations can be made via PayPal or credit card at our website. Your donation is much appreciated and needed to help us continue offering this widely appreciated program in the community. For more details, feel free to email us at llcsvancouver@gmail.com, or call us at 604-685-5548.
(Vancouver Lotus Light Charity Society is a non-profit organization registered with the Government of Canada, registration number: BN14110-4893-RR0001. A tax receipt will be issued for donation amounts that are $20 or over)
LLCS February "Hot Meals for the Homeless" Program Received the Third Time Support from Pink Pearl Seafood Restaurant