Lotus Light Charity Society's 2019 Winter Charity Drive celebrates its 26th year and we welcome everyone's generous support! Lotus Light will be distributing sleeping bags, socks, gloves, hygiene care and winter care survival kits to help save lives this winter season. Our volunteer members are actively collecting canned goods and non-perishable food for Lotus Light's Children's Backpack Program to benefit the school food programs at several Tier 1 low income elementary schools in East Vancouver.
100% of your donation will go towards providing warmth, hope and comfort to thousands of homeless and impoverished children, families and seniors living in poverty in Metro Vancouver, and in particular the downtown Eastside.
On Saturday, December 7, 2019 at 12:30pm, Lotus Light Charity Society will present to representatives of the Vancouver Police Department's Homeless Outreach Program and the BC Ambulance Service and low income family assistance groups and inner city schools with a donation of 60,000 items for Winter Charity Drive 2019. Event attending VIP guests including MP of Vancouver East, Ms. Jenny Kwan, Deputy Mayor, City Councillors Michaela Wiebe, City Councillors Ms. Sara Kirby-Yung, Ms. Rebecca Bligh,  and Mr. Pete Fry. A public distribution of winter care packages directly to the street homeless at Lotus Light Charity's head office, 347 E. Hastings Street, Vancouver will be held that afternoon. Lotus Light welcomes our community volunteers, partners and local media to attend this annual community caring event!
"The greatest thing we can do is to help someone in need. Let's work together to bring warmth and hope to help the homeless survive the cold this winter," said Buddhist Master Lian Tzi, President of Lotus Light.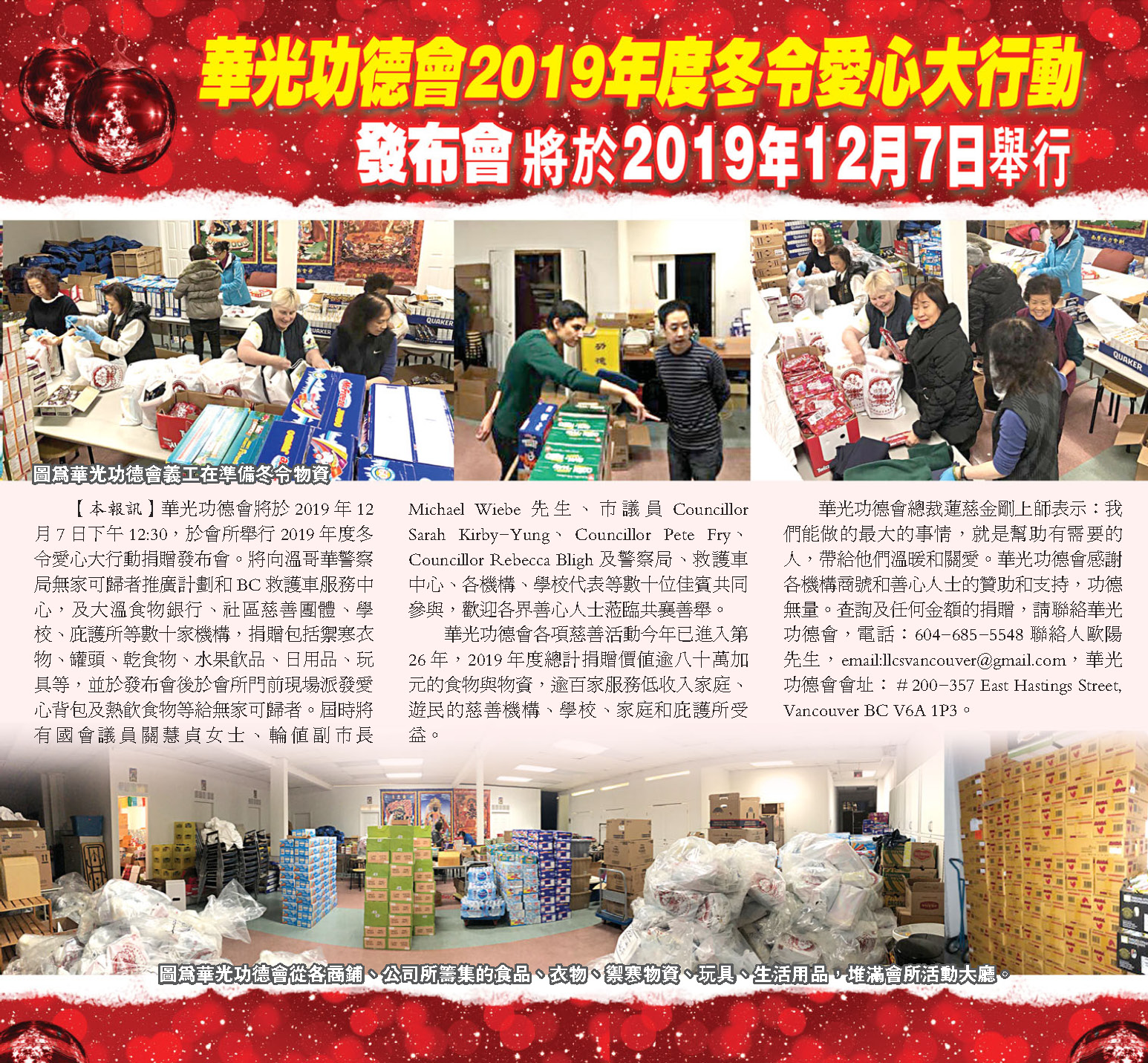 The Lotus Light 2019 Annual Charity Drive, now in its 26th year, relies on financial and in-kind donations from individuals and corporate supporters. This year's campaign continues our annual distribution of hundreds of sleeping bags and emergency care packages in partnership with local shelters and family service agencies throughout the Lower Mainland. We sincerely appreciate the sponsorship support from:
Ocean Brands, Superstore Grandview Hwy, Superstore King George Surrey, Sahota's No Frills, Walmart Burnaby Metrotown, Hyatt Regency Downtown Vancouver, Starbucks City Square, Starbucks Hastings & Kaslo, Starbucks International Village, Starbucks Terminal Ave, Terra Breads, Discovery Organics, Canadian Red Cross Society, Save-On-Foods Cambie St, Save-On-Foods Main St, St. Germain Bakery, New Town Bakery & Restaurant, Ba-Le Deli & Bakery, Hai Phong Vietnamese Restaurant, Freshslice Abbott St, Direct Liquidation and more proud sponsors!
 In the spirit of its motto "Through caring and learning, we help to build a better tomorrow" Lotus Light Charity Society (Vancouver) is a registered non-profit charity dedicated to helping the most vulnerable in our local community.
For further information, please contact:  Sean X. Ouyang
Lotus Light Charity Society (Vancouver), #200-357 East Hastings Street, Vancouver, BC V6A 1P3, Phone: 604-685-5548, extension 13 llcsvancouver_at_gmail.com