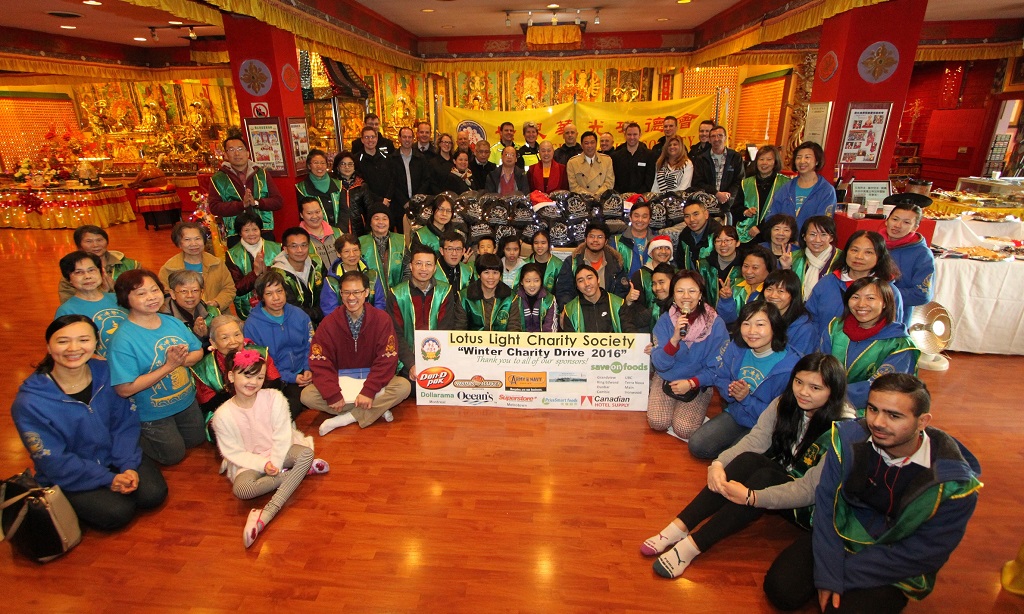 LLCS Winter Charity Drive 2016 Partners with VPD, BCAS and Save-On-Foods to distribute Sleeping Bags, Care Packages and Free Meals to Homeless
— November 19, 2016
0
33
Winter Charity Drive 2016 partners with VPD, BCAS, Save-On-Foods
distributed sleeping bags, care packages and free meals to homeless
On Saturday, November 19th, 2016 at noon, Lotus Light Charity Society (Vancouver) held its annual Winter Charity Drive Presentation at Lotus Light Temple (347 E Hasting St, Vancouver) to present Winter Charity Drive 2016 donations to representatives of community partners: the Homeless Outreach Program, Vancouver Police Department, the BC Ambulance Service, the City of Vancouver's HEAT Program, Lookout Society Surrey and Abbotsford Shelters,  Progressive Housing Society Burnaby, Integration and Outreach Richmond Team, the Ministry of Social Development of BC,  and the Salvation Army Shelter Richmond House, with a donation of 1000 sleeping bags and 1000 winter care packages.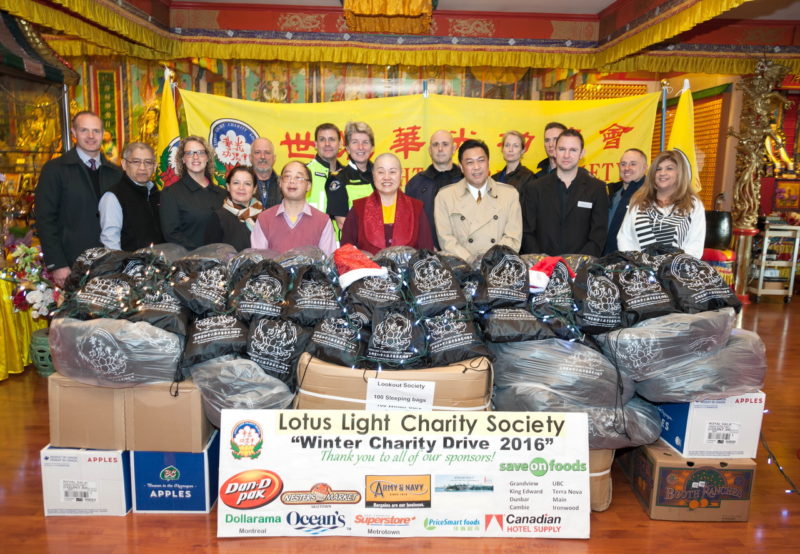 Distinguished guest attended the presentation including Vajra Master Lian Tzi, President of Lotus Light Charity Society (Vancouver), Abbess of Lotus Light Temple & President of World True Buddha News; Vancouver City Councillor, Dr. Kerry Jang, Vancouver Police Department Homeless Outreach Team, Inspector Rob Clarke and Constable Ali Gailus; Paramedic Chief Marilyn Oberg, of BC Emergency Health Services and her colleagues with BC Ambulance Services, Lookout Society Deputy Executive Director, Mr. Keir MacDonald and Lookout Society Shelter Manager for Boulevard Surrey, Gateway Surrey & Riverside Abbotsford, Ms. Linda Fox, Progressive Housing Society Burnaby, Housing Coordinator, Mr. William Oksanen, Integration and Outreach Richmond Team, Ministry of Social Development BC, Ms. Susana Martinez, and Salvation Army Richmond House Shelter, Program Developer Roland Oliva, Dr. Floyd Wong, Lotus Light Charity Society Board of Director, and Store Manger Sara Scott from Save-On-Foods Grandview and other local stores. Premier Christy Clark of BC and Vancouver Mayor Gregor Robertson have sent their greetings to a successful Winter Charity Drive 2016.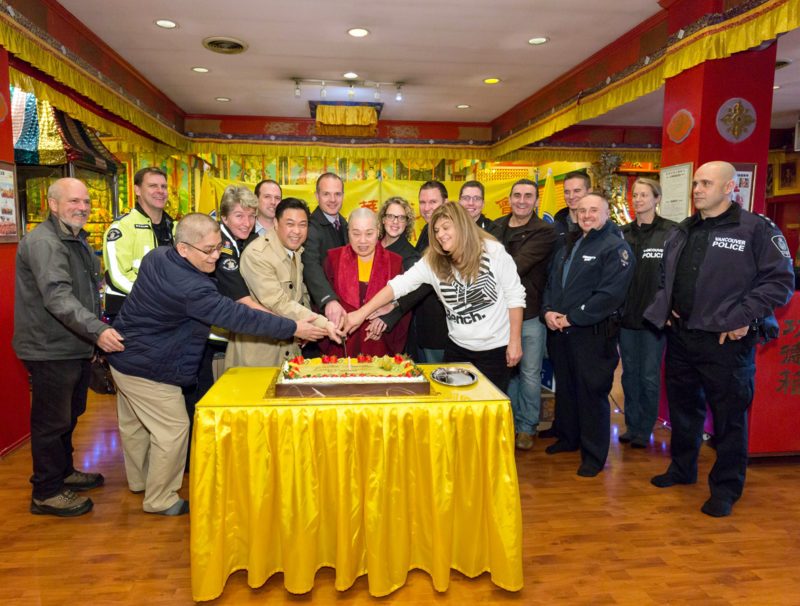 The Lotus Light Winter Charity Drive, now in its 21st year,  has raised community awareness and benefited Vancouver's homeless each year since 1995, and has distributed more than 330,000 winter garments and non-perishable food items since its inception. In 2016, close to 30,000 items of sleeping bags, winter garments, personal hygiene products and food items were distributed to the homeless and low income families with help from our community partners.
"We are gathered here today to provide some warmth and comfort for the hundreds of men and women in our community who are experiencing the struggles of homeless. Many suffer from depression, mental Illness or other health issues, while others struggle with addictions.Today our hearts and prayers go out for those who have nowhere to call home. May they find warmth, safety and shelter soon, and experience kindness, dignity and hope." said Buddhist Master Lian Tzi, President of Lotus Light.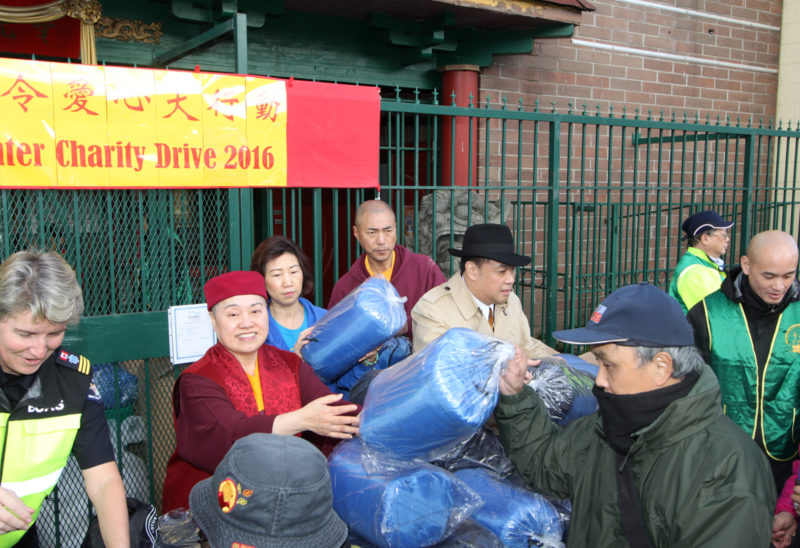 Councillor Kerry Jang thanks LLCS to invite him to the event: "It's my seventh year attending LLCS Winter Charity Drive Donation, thank you to Lotus Light charity Society for their generosity. I am glad to see the community partners from Richmond, Burnaby and  Surrey are here. Sure the homelessness not just Vancouver's problem, it exists through our region. But most importantly the Buddha teaches us, to provide hope and compassion. A small gift may not be seen a lot for some people, but it provide hope for those need help."
VPD Homeless Outreach coordinator Cst. Gailus said:" It's our seventh year participating the Winter Charity Drive. We can't express how much your donation and your time means for the homeless population, and your commitment to our department. The sleeping bags and care packages received today will be distributed through out the city by our officers. it allows for connection between our police and to those who have been marginalized and struggling on the street. Thank you for these many years and continue working in partnership with you."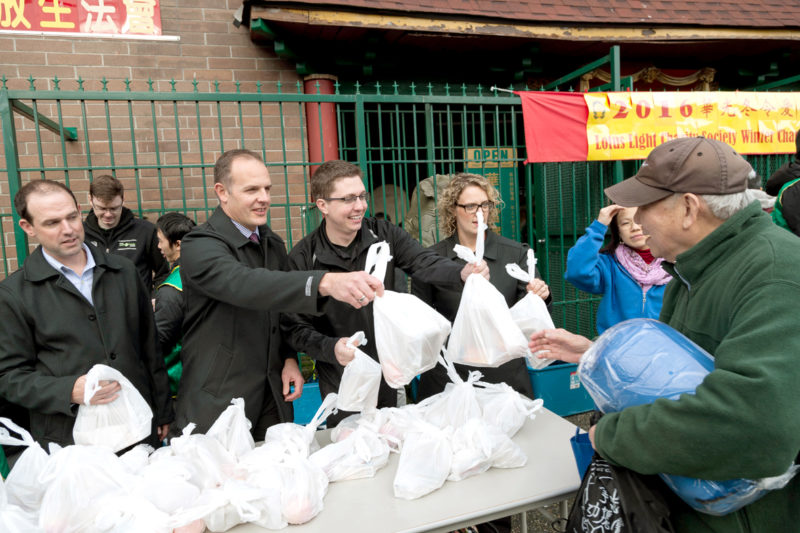 Paramedic Chief Marilyn Oberg, of BCAS expressed her thanks to LLCS, "The Sleeping bags and care packages will be put to the back of our ambulances. The ambulances will  roam all over the lower mainland. It's a wonderful engagement tool that just add that absolute love and compassion. It's so importance to the  integrity of job we do. And thank you for allow us to participate and be an important part of your event."
After the donation presentation, distinguished guests, charity volunteers and representatives from community partners VPD, BCAS and managers from Save-On-Foods distributed hundred of sleeping bags, care packages and free  lunch meals sponsored by Save-On-Foods to the homeless in front of Lotus Light Temple. The homeless in Downtown Eastside enjoyed a very happy day with the gifts from Lotus Light.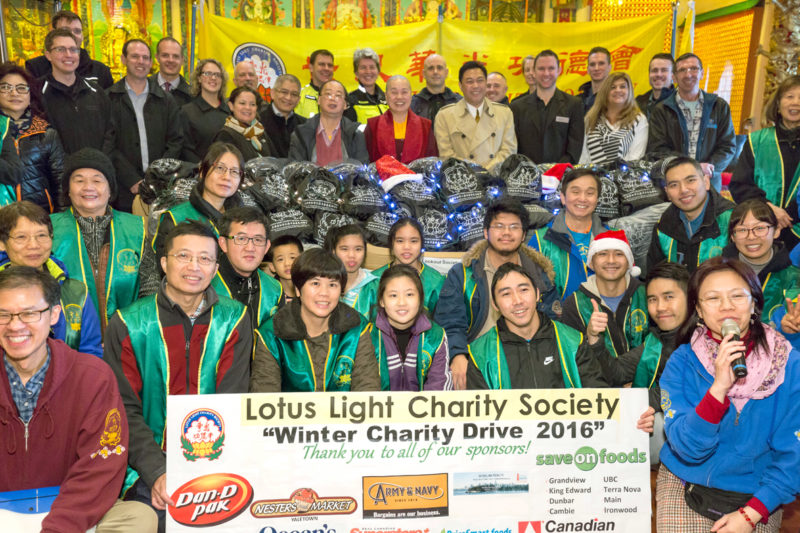 The Lotus Light Winter Charity Drive relies on financial and in-kind donations from individuals and corporate supporters to continue its campaign to distribute sleeping bags and emergency care packages in partnership with local shelters and family service agencies throughout the Lower Mainland, including the Homeless Outreach Program of Vancouver Police Department, British Columbia Ambulance Service.
A Message from the Premier Christy Clark to Winter Charity Drive 2016
A Message from Mayor Robertson to Winter Charity Drive 2016
Related
Similar articles
Related

Rahim and his Shoppers Drug Mart Richmond Shopping Centre graciously donated hundreds of toothbrushes to support Annual Winter Charity Drive! Rahim, your kindness is much appreciated! Related

Acknowledgement Lotus Light Charity Society (Vancouver) would like to express our gratitude to the following community partners and all the volunteers. We appreciate our donors and sponsors for their generous supports to make the Winter Charity Drive 2017 a great success. Master Lian Tzi; MP Jenny Kwan, Vancouver East; Mayor Gregor Robertson, City of Vancouver;…

Lotus Light's 2017 Winter Charity Drive Event Increasing Numbers of DTES Homeless The Lotus Light Charity held its annual distribution event on Saturday, December 16th on Hastings and Dunlevy. This year, over 40,000 items including new sleeping bags, winter garments, personal hygiene products, toys and clothing valued over $100,000 were donated and distributed to community…

Lotus Light's 2017 Annual Winter Charity Drive: Donated 40,000 items valued over $100,000 to community partners As snow starts falling across lower mainland on Tuesday, LLCS volunteers have been busy in delivering the care packages for the City of Vancouver temporary shelter program. Related

Act Now! Sponsor a Sleeping Bag and Care Package Lotus Light Charity Society (Vancouver) is pleased to announce its upcoming 2017 Annual Charity Winter Drive, which distributes much needed sleeping bags and winter emergency care packages to Vancouver's street homeless through our community partners throughout the cold winter months. LLCS's Annual Winter Charity Drive 2017…

LLCS Delivered most needed Winter Care Packages to Salvation Army Crosswalk Shelter The next 2 weeks' forecast calls for more snowfall and cold rain. Unfortunately, Vancouver's homeless are seeing firsthand how full shelters can get in extreme weather conditions, with the city-wide closure of all but 4 warming centers in mid-January 2017. The Lotus Light…

Winter Charity Drive 2016: As Shelters Overflow, Lotus Light Charity Concerned for Vancouver's Street Homeless This Challenging Winter As Vancouver's homeless shelters overflow, for the remainder of January 2017, Lotus Light Charity Society ("LLCS") Vancouver chapter is actively working with community partners to distribute emergency sleeping bags and care packages where and when needed on…

Winter Charity Drive 2016 Councillor Kerry Jang and LLCS Volunteers visit HEAT shelter Vancouverites were experiencing much inconvenience from the freezing temperature and heavy snow falls in the last two weeks. But in contrast, there were many less fortunate residents who are still living in the streets. Lotus Light Charity Society's Winter Charity Drive 2016…
Charity Focus

Recent News
Related

Related
Be Friend with Lotus Light!
Archives