Winter Charity Drive 2016: As Shelters Overflow, Lotus Light Charity Concerned for Vancouver's Street Homeless This Challenging Winter
January 13, 2017 in Donation, Press Release, Social Assistances by webmaster
Winter Charity Drive 2016:
As Shelters Overflow, Lotus Light Charity Concerned for Vancouver's Street Homeless This Challenging Winter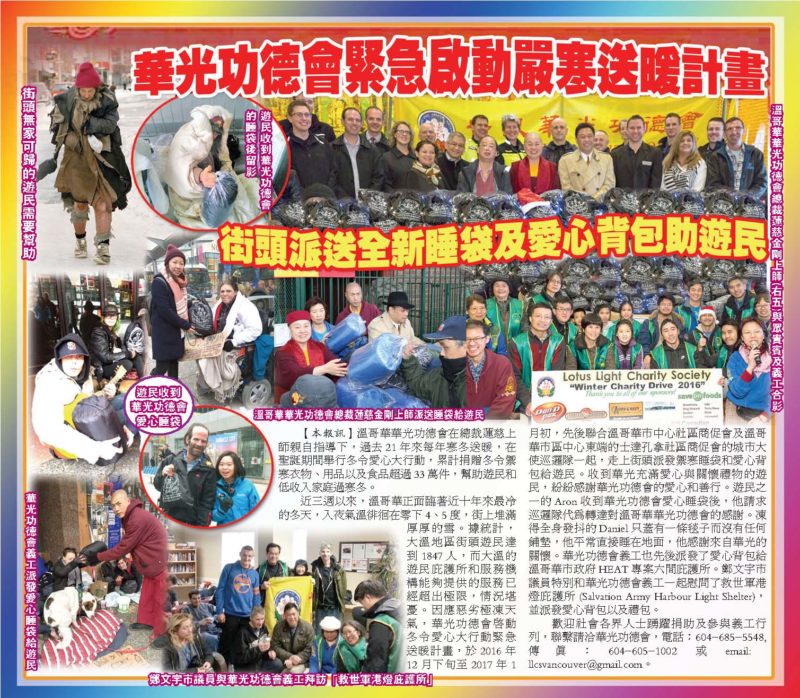 As Vancouver's homeless shelters overflow, for the remainder of January 2017, Lotus Light Charity Society ("LLCS") Vancouver chapter is actively working with community partners to distribute emergency sleeping bags and care packages where and when needed on Vancouver's icy streets to help the most vulnerable people sleeping outside this winter.
Adarsh Singh, Supervisor of the Strathcona Business Improvement Association's security patrol team, relayed the honest appreciation of several recipients of sleeping bags. "Aron asked us to forward his thanks to the Lotus Light Charity Society. Daniel was shivering as he only had a blanket to cover him and nothing to spread under him. He was lying on the ground. He sends his thanks for the care from LLCS."
Metro Vancouver is currently experiencing its coldest winter since 2008 after record-breaking rainfalls, with freezing sub-zero overnight temperatures in the long-range forecast. These wet, cold conditions are a serious challenge for Vancouver's growing homeless population of 1,847 individuals (2016 homeless count). Homeless shelters and service providers are stretched beyond their limits in the Lower Mainland; some shelters are at full capacity within 20 minutes of opening. There are slim chances to stay warm or dry when typical shelter intake hours start at dusk, and the homeless are discharged to the streets by dawn the next morning.
Lotus Light Charity Society is proud to able to provide vital supplies and connections for the homeless and impoverished. We truly value the kindness and dedicated support of our community partners and sponsors who came out in‑person to support the LLCS 2016 Annual Winter Charity Drive which organized the recent distribution of 1,000 sleeping bags, 1,000 emergency winter care packages (including non-perishable food/snacks, hygiene products, winter toques, gloves, scarves, ponchos and socks) and 500 lunch meals to various shelters and agencies throughout the Lower Mainland, and plans to continue distribution efforts in January 2017 out of concern for the people turned away from full shelters.
Vancouver Police Dept's Homelessness Outreach coordinator Constable Alison Gailus echoed the sentiments of Vancouver City Councillor Dr. Kerry Jang, "It's our seventh year participating in the LLCS Winter Charity Drive. We can't express how much your donation and your time means for the homeless population, and your commitment to our department. The sleeping bags and care packages received will be distributed throughout the city by our officers. It allows for connection between our police and to those who have been marginalized and struggling on the street."
Paramedic Chief Marilyn Oberg of the BC Ambulance Service expressed, "The sleeping bags and care packages will be put to the back of our ambulances. The ambulances will roam all over the Lower Mainland. It's a wonderful engagement tool that just add that absolute love and compassion."
The Lotus Light Winter Charity Drive, now in its 21st year, has raised community awareness and benefited Vancouver's homeless each year since 1995, and has distributed more than 330,000 winter garments and non-perishable food items since its inception. In 2016, close to 30,000 items of sleeping bags, winter garments, personal hygiene products and food items were distributed to the homeless and low income families with assistance from our community partners. Additional sleeping bags and supplies are being distributed throughout January 2017 in the Vancouver downtown core and eastside.
Golden Lake Seafood Restaurant Sponsors LLCS December Meals for the Homeless, and Our Tremendous Appreciation to Every Sponsor of the Event this Entire Year