2017 "Lotus Light Community Caring Day" Event 
Celebrates Spirit of Friendship & Caring in Vancouver's DTES
Lotus Light Charity Society (Vancouver) volunteers were gathered in full force this Saturday, July 8th at Oppenheimer Park to celebrate community caring. In the heart of the downtown eastside's Strathcona Chinatown neighborhood, the first annual "Lotus Light Community Caring Day" was officially proclaimed by the Deputy Mayor of Vancouver, City Councillor Tim Stevenson to recognize the Lotus Light Charity Society's 24th year anniversary of good work in the local community amongst a gathering crowd of over 1,000 people.
Notable Community Leaders enthusiastically turned out to help Lotus Light Charity's volunteers grill hot dogs, distribute care packages, sunglasses, and non-perishable food to benefit the community's neediest members, impoverished low-income families, children and seniors and street homeless. All attendees enjoyed complimentary boxed hot lunches, fresh baked cookies, samosas, coffee and cold bottled beverages and other treats. Youngsters and families in the neighborhood enjoyed face painting, entertainment by Mr. Bubbles the singing clown, and received special gifts of puzzles, toys, and food care packages.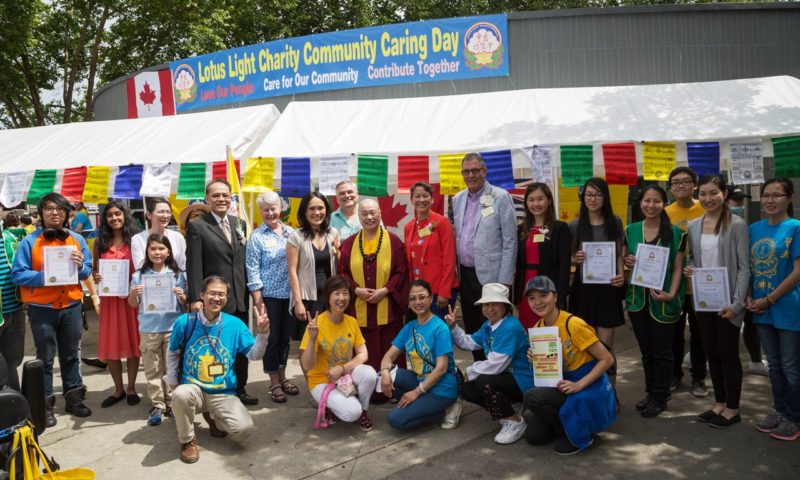 Ms. Sue Kennedy, major gift officer for the Greater Vancouver Food Bank was presented with the Lotus Light Annual Rice Donation of 10,000 lbs of rice, and 6 deserving post-secondary students (Emmett Mark, Elly Choi, Luxcia Kugathasan, Maya Naidu, Tikicia Joyce, and Vanessa Mok) were presented with the Lotus Light Annual Scholarship Awards to recognize their outstanding academic achievements and community involvement.
Gathered in the spirit of community caring, and working steadily in blue aprons throughout the afternoon at the barbecue and food stations were Lotus Light's President Master Lian Tzi and Board Member Dr. Floyd Wong,  Deputy Mayor Tim Stevenson, the MP for Vancouver East, Ms. Jenny Kwan, BC's first First Nations MLA Ms. Melanie Mark (Mt. Pleasant Vancouver), MLA Ms. Anne Kang (Deer Lake Burnaby), Mr. Hank Liu, Deputy Director-General of the Taipei Economic & Cultural Office-Vancouver (TECO) and the Vancouver Park Board Commissioner, Mr. Stuart Mackinnon.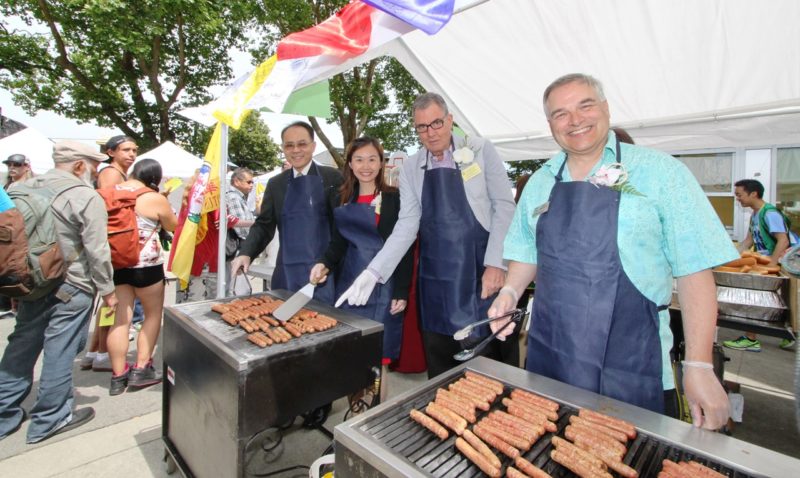 The event festivities kicked off with the singing of O Canada to celebrate Canada's 150th year, followed by musical performances by local jazz vocalist Ms. Wendy He and special First Nations performance artists Mr. Allen Williams and family who offered "The Honour Song" and traditional "pow wow" drumming and finished with a Round Dance to cheering applause and an appreciative community audience.
"I am thrilled to see so many people here today coming out to show their friendship and support of the 2017 Lotus Light Community Caring Day," said volunteer event organizer Ms. Teresa Fung at the Lotus Light welcome information booth. "It's amazing to see how a bit of caring for others does so much to uplift our community."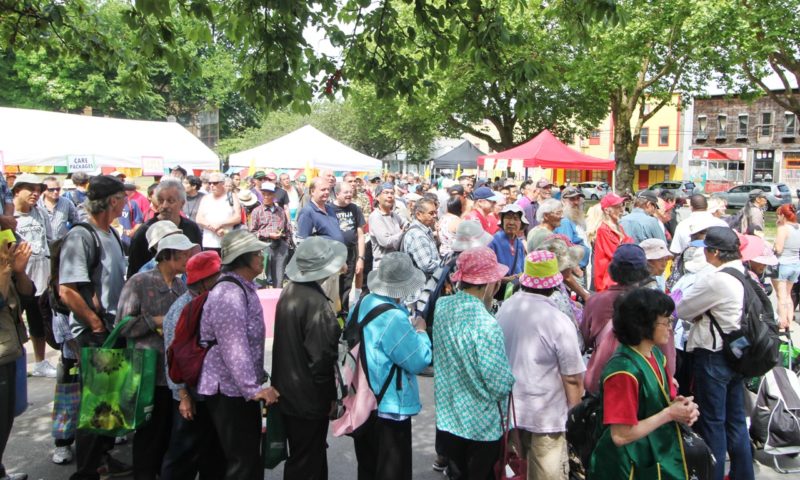 The Lotus Light Charity Society sincerely appreciates our community leaders and volunteers, and extends a SPECIAL THANK YOU to our corporate sponsors and local businesses:
AAA Restaurant, A&B PartyTime Rental, Clearly, Direct Liquidation, East One Seafood Restaurant, Fraser Court Seafood Restaurant, Glitter Woods Investment, Happy Planet, India Gate Restaurant, Living Magic Entertainment, Mr. Bubbles the singing clown, NOVAGOLD, Ocean Brand, Pacin Enterprises Inc., Phnom Phen Restaurant, Quilts Etc, Save On Meats, Save On Foods Cambie, Strathcona Business Improvement Association and SecuriGuard, Sunrise Soya Foods, Superstore Richmond, and Vancouver Community College – Baking & Pastry Arts Department.