Lotus Light Continued Fundraising at Save-On-Foods for BC Wild Fire Victims
July 25, 2017 in Disaster Relief, Press Release by webmaster
PRESS RELEASE – July 24, 2017
Lotus Light Continued Fundraising at Save-On-Foods for BC Wild Fire Victims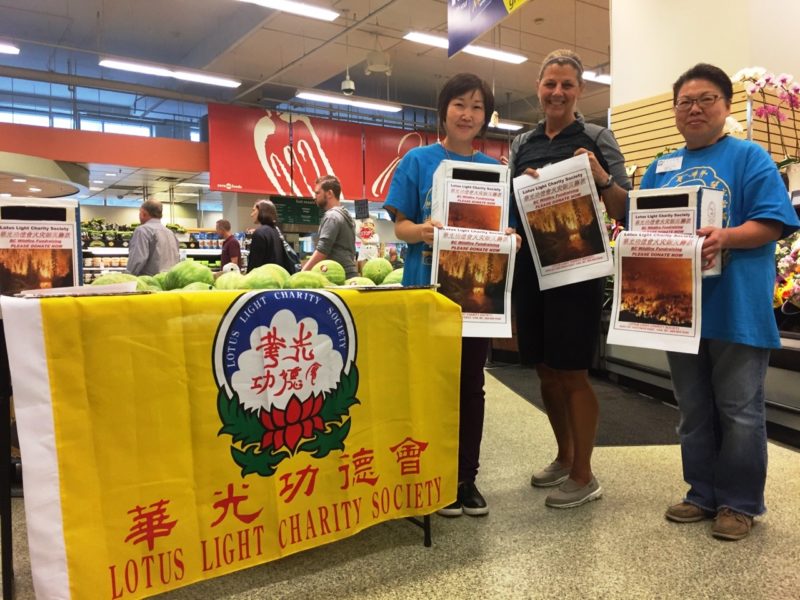 LLCS Vancouver volunteer teams again were actively fundraising at different high-traffic venues in Vancouver for victims of BC Wildfires. Last Saturday, July 22nd, Lotus Light members fund-raised at Save-On-Foods Cambie St & Broadway.
LLCS's BC Fire Appeal was well supported by Dareen who is the store manager of Save-On-Foods Cambie St. Save-on-foods Cambie St. has supported past LLCS's numerous fundraising events for natural disasters. BC Wildfires disaster is not an exception.  LLCS is registered as an active fundraiser for BC Wildfire Appeal with Canadian Red Cross.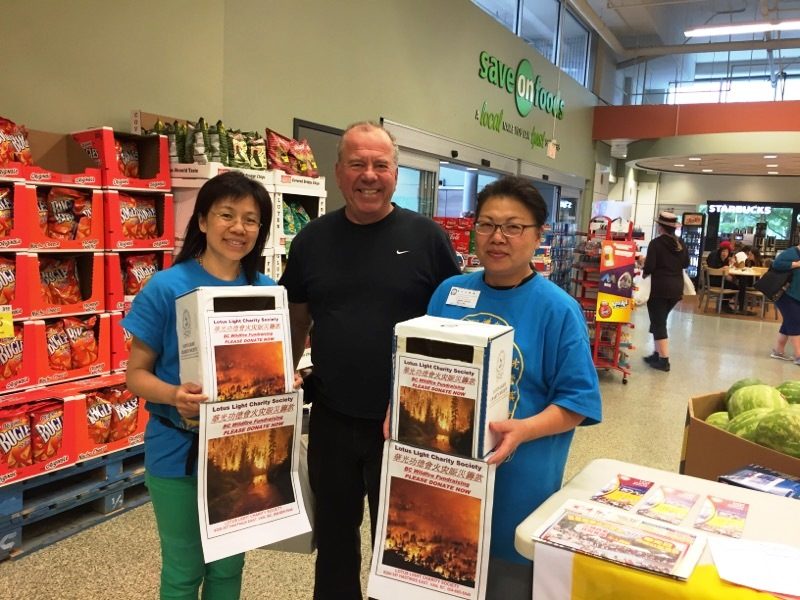 On July 22nd, LLCS Vancouver volunteers once again fund-raises in the weekend afternoons.  A display booth was prepped and donation boxes were set up to collected donation from warm hearted grocery shoppers.  As of today, there are a total of 152 wildfires in BC and 15 of them are life-threatening requiring nearby residents to evacuate their ranch and farms.  Not just humans, but also wild animals are escaping away from burning forests.  Yesterday on Sunday, July 23, Lotus Light also supported by the TBS disciples at Seattle Rainbow Temple, North Bend.
Donations to the BC Fires Appeal will provide cots, blankets, family reunification as well as financial assistance so Individuals and families can get the food, water, clothing and shelter and other necessities they need now, and in the weeks and months ahead.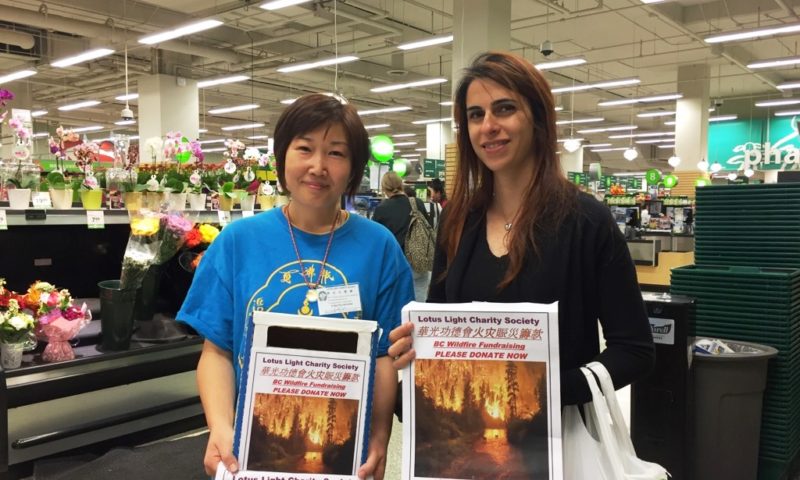 The proceeds will be 100% directed to The Canadian Red Cross in supporting the Government of British Columbia in providing relief for those affected by the BC wildfires.  A charitable tax receipt will be issued for any donations $20 and over. We also accept donations by cheque or credit card online (through PayPal) at http://www.vllcs.org/en/donation/. Please send cheque donations payable to "Lotus Light Charity Society" and reference "BC Fires Appeal" to:
Lotus Light Charity Society
200-357 East Hastings St.
Vancouver, BC V6A 1P3
In the spirit of its motto "Through caring and learning, we help to build a better tomorrow" Lotus Light Charity Society (Vancouver) is a registered non-profit charity dedicated to helping the most vulnerable in our local community (non-profit registration # BN14110-4893-RR0001).