Lotus Light Holds Emergency Fundraising as Difficult BC Fire Crisis Continues
July 18, 2017 in Disaster Relief, Press Release by webmaster
PRESS RELEASE – July 17, 2017
Lotus Light Holds Emergency Fundraising as Difficult BC Fire Crisis Continues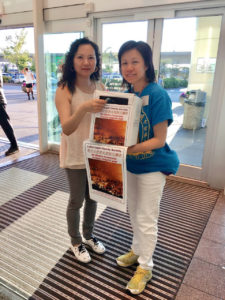 As B.C. enters its third week of wildfire crisis so massive that thick smoke and haze is visible from NASA space images, almost 40,000 people have been forced to flee their homes as firefighters, first responders and support staff have been brought in from across Canada to help in the fight.
There are 162 active fires burning across B.C. on Monday morning, burning up more than 131,000 hectares. The entire city of Williams Lake (11,000 people) and surrounding area (9,000) have been ordered to evacuate on Saturday as gusty winds blew fires dangerously close.
Lotus Light Charity Society (Vancouver) is actively holding emergency fundraising collections to support The Canadian Red Cross BC Fires Appeal. LLCS volunteers have fundraised at Yaohan Centre Richmond, and will continue the fundraising efforts for the following two weeks.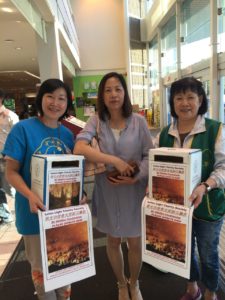 "We are united in prayers and support for the hundreds of BC communities affected by the wildfires. Lotus Light is proud to support The Canadian Red Cross and Government of BC in their life saving efforts during this state of emergency," said Master LIan Tzi, President of Lotus Light Charity Society.
Donations to the BC Fires Appeal will provide cots, blankets, family reunification as well as financial assistance so Individuals and families can get the food, water, clothing and shelter and other necessities they need now, and in the weeks and months ahead. =
The proceeds will be 100% directed to The Canadian Red Cross in supporting the Government of British Columbia in providing relief for those affected by the BC wildfires.  A charitable tax receipt will be issued for any donations $20 and over. We also accept donations by cheque or credit card online (through PayPal) at http://www.vllcs.org/en/donation/. Please send cheque donations payable to "Lotus Light Charity Society" and reference "BC Fires Appeal" to:
Lotus Light Charity Society
200-357 East Hastings St.
Vancouver, BC V6A 1P3
 In the spirit of its motto "Through caring and learning, we help to build a better tomorrow" Lotus Light Charity Society (Vancouver) is a registered non-profit charity dedicated to helping the most vulnerable in our local community (non-profit registration # BN14110-4893-RR0001).
For further information about Lotus Light Charity Society's programs, please contact:  Sean X. Ouyang, Phone: 604-685-5548, Ext. 13, Email: llcsvancouver@gmail.com or visit our website www.vllcs.org.
2017 "Lotus Light Community Caring Day" Event – Over a thousand participates enjoyed a special day with Lotus Light Charity Society