PRESS RELEASE
March 4, 2019
Lotus Light Lessens Weekend Hunger Gap for Langley Students
This week, Lotus Light Charity Society's volunteers delivered nearly 1 ton of healthy school snacks and juices to Langley Secondary School, in one of Metro Vancouver's fastest growing municipalities.
Each month, nearly 2,000 breakfasts are served to students arriving hungry at Langley Secondary School. Many of them are refugees, immigrants or from local families struggling with poverty. The school's breakfast and lunch programs rely on provincial funding that is being threatened by subsidy cuts. It costs the school $28,000 a year to feed students who would otherwise go hungry.
A recent survey conducted by the Langley School District Foundation revealed that approximately 3,000 kids were coming to school hungry every day.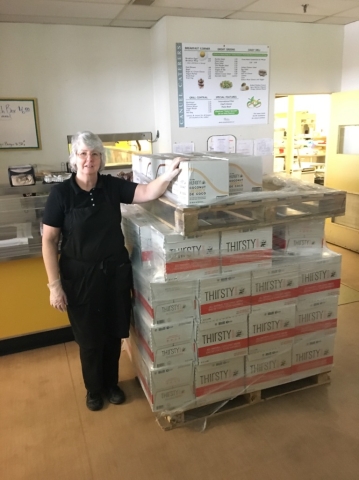 About three years ago, a Langley high school student was shocked to realize a school friend — who received free meals during school – spent his weekends with little to almost nothing to eat. "While we were having pasta, salad and garlic bread and dessert for dinner, he had a granola bar," said Katrina Schulz. Together with friends, Katrina launched a program which currently provides 80 students in Langley with bags filled with about $10 of food to take home every weekend in partnership with the Langley School District Foundation and local grocery stores.
"Lotus Light's Children's Backpack Program began in 2013 to address the weekend hunger gap for school children in the Downtown Eastside. What initially started off as a 100 lbs of non-perishable food donations per week has grown to several thousands of pounds each month as Lotus Light strives to expand the reach of its food recovery program with the support of corporate and community partners.  Today, we are seeing an even bigger need throughout Metro Vancouver as families and individuals struggle to afford housing and basic necessities," said Master Lian Tzi, President of Lotus Light Charity (Vancouver).
Thanks to Lotus Light's community food sponsor, Temple Lifestyle, approximately 1,600 lbs of healthy, organic snacks and beverages (retail $6,700) will supplement the Langley Secondary School's three food programs (breakfast, lunch and a weekend backpack program which benefits about 120 students in need).
In the spirit of its motto "Through caring and learning, we help to build a better tomorrow" Lotus Light Charity Society (Vancouver) is a registered non-profit charity dedicated to helping the most vulnerable in our local community. Please get in touch with us if you have questions about the appeal or Lotus Light's charity programs: Lotus Light Charity Society (Vancouver), #200-357 East Hastings Street, Vancouver, BC V6A 1P3 Tel: 604-685-5548, Email: llcsvancouver_at_gmail.com, web: http://www.vllcs.org.
Charity Registration: BN14110-4893-RR0001.