Press Release Feb 12, 2021
Lotus Light Serves Chinese New Year Feast to the Homeless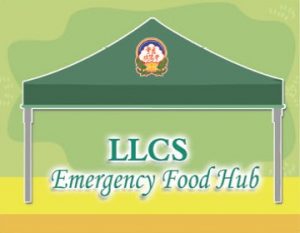 On February 12, 2021, the Chinese New Year Day of the Year of Ox, the volunteers of the Lotus Light Charity Society's emergency kitchen started preparing a Chinese New Year meal early in the morning to serve the vulnerable population in the DTES Vancouver community, the menu including BBQ duck, special ranch chicken, mix vegetables, and the desserts including milk custard buns and red bean paste buns, nanaimo bars, fortune cookie, fortune candy, golden coin chocolate.
Since 2015, Lotus Light launched a hot food for the homeless program and has been serving delicious Chinese meals monthly to the homeless at Oppenheimer Park. There are always long queues for the meals as the homeless people like the delicious Chinese cuisine, especially the sweet and sour pork, lemon chicken and BBQ pork are very popular according to volunteers. Lotus Light has been partnering with many generous restaurants in Metro Vancouver to serve the vulnerable populations in the community, and each restaurant takes turn to offer their special menu. Due to the Covid-19 Pandemic, requests for food support are dramatically increased; LLCS launch the Emergency Charitable Kitchen to provide free meals twice a week to the less fortunate in DTES Vancouver. "In this extraordinary time, it is imperative to start this charity kitchen to feed the needy, to save people's life." described Master Lian Tzi, President of Lotus Light. Since the launched of the LLCS Emergency Kitchen in mid-2020, more than 6,000 meals have been served to the vulnerable population in the community.
Lotus Light Charity Society also donated a batch of Chinese pastries on the same day to the First United Church to serve the homeless to celebrate the Chinese New Year.
On this Chinese New Year 2021 Year of Ox, Lotus Light Charity Society and all volunteers would like to express our sincere thanks to our generous corporate and individuals sponsors for their financial supports and in-kind donations in the past year. We would like to thank to the support of Emergency Community Support Fund: United Way Lower Mainland, Foodrescue.ca Emergency Fund: Second Harvest, Community Response Fund: Vancouver Foundation, VanCity Credit Union, United Way Lower Mainland, and the City of Vancouver; Surplus Food Rescue Program: Second Harvest, Community Grant: Walmart Burnaby Supercentre; and thanks to Superstore Grandview Hwy, Superstore King George Surrey, Wholesale Club Burnaby FoodMesh.ca, Fresh Point, Fresh Direct, Discovery Organics, Produce Terminal, Van-Whole, Ocean Brands, Wholesale Club Kingsway, Agropur, CDS Warehouse, Fine Choice Foods, Chens Distribution, Chefs Warehouse, Gordon Food Service, Grace Foods and other corporate sponsors and partner organizations for their supports.
For more information on various Lotus Light's charity programs, please contact us by email:llcsvancouver@gmail.com, Tel: 604-685-5548, or visit lotus light website: http://vllcs.org.  Lotus Light Charity Society registered number:  BN 14110-4893-RR0001.