Over a thousand enjoyed the Spirit of Caring and Community
LLCS held its third annual "Lotus Light Community Caring Day" on July 6th, 2019 on 200 Jackson Ave (and Powell Street) on the east side of Oppenheimer Park, to celebrate community caring and hope in the downtown eastside. Thanks to the generosity of dozens of local businesses, our community partners and volunteers have distributed free food, household items and small gifts along with BBQ hot dogs, fruits, coffee, pastry snacks, and ice cream; and can foods coffee mug, sun glasses and clothes.
The event brings a summer Hot Dog BBQ picnic in the heart of the downtown eastside Oppenheimer neighborhood, with family-focused activities and gifts for low-income families and those struggling with poverty, homelessness and addiction. Over 1,000 meals were served in Oppenheimer Park, giving impoverished families and those who are homeless or at-risk of homelessness a summer break and chance to partake in summer festivities that would otherwise be out of their reach. Over ten thousand gifts items including sun glasses, pasta, can foods, clothing, hats and small personal care items were distributed to the attendees.
The event also celebrates Lotus Light Charity Society's 26th anniversary serving the Vancouver DTES community. In attendance were Ms. Jenny Kwan, MP for Vancouver East, Deputy Major Councillor Sarah Kirby-Yung, Councilor Rebecca Bligh, Mr. Stuart Mackinnon, Chair of Vancouver Board of Parks and Recreation, Mr. David Long, CEO the Greater Vancouver Food Bank Society and Ms. Terra Paredes, Manager of Community Events, Food Bank. Hosting the event were Lotus Light's Chair of the Board, Vajra Master Lian Tzi, the charity's Vice-President Dr. Floyd Wong and the charity's Executive Director, Ms. Teresa Fung.
In the event, Lotus Light presented a donation of 5,000 lbs rice to Mr. David Long, CEO of the Greater Vancouver Food Bank Society. Four students were awarded the 2019 annual Lotus Light Charity Scholarship which recognized their academic excellence and community volunteerism. Foodbank CEO David Long presented a certificate to thank Vajra Master Lian Tzi for the contine supports to the greater Vancouver Food banks. Mr. Stuart Mackinnon, Chair of Vancouver Board of Parks and Recreation on behalf of Carnegie Community Association, presented a certificate to Master Lian Tzi, to express their appreciation to the monthly meal program at Oppenheimer Park.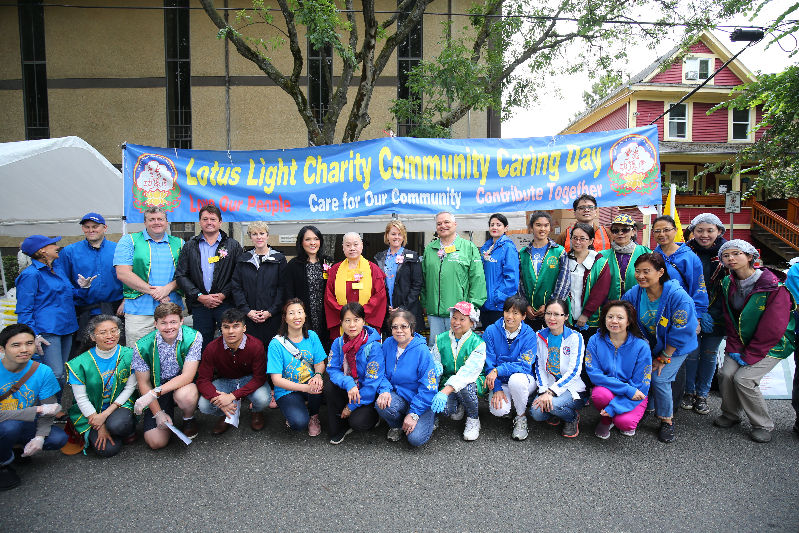 "I am so proud to see our community leaders, local businesses and LLCS volunteers coming together to make this event a success. Thousands of people in the Downtown Eastside community are able to enjoy a break from their worries and have a fun day. Beyond just a one-day event, Lotus Light Charity Society (Vancouver) is proudly celebrating 26 years of serving the DTES community this year. Providing food and care packages of gifts of clothing, blankets, essential items are a critical element to our outreach efforts and community service programs." Master Lian Tzi.
The charity appreciates the generous supports from our sponsors Superstore: Grandview Hwy, King George Hwy Surrey and Marine Drive; Wholesale Club, Clearly, Terra Breads, St. Germain Bakery, Van-Whole Produce, Direct Liquidation, Ansan Traffic Control, Save-On-Foods: Cambie St. and Main St; Quilts Home Etc, VCC Bakery Department, Blenz Coffee International Village, JJ Bean Main St and Cambie St.; Starbucks Coffee: International Village, Terminal Ave, Terminal Ave Drive-Thru, Yukon St, Kaslo St, Hastings E. & Clark Drive, Bridgeport Road Richmond, and City Square Mall; Hai Phong Vietnamese Restaurant, Ba Le Vietnamese Restaurant, Phnom Penh Cambodian Restaurant, Wholefoods Cambie, Earnest Ice Cream, Phoa Thai Hoa Vietnamese Restaurant, Dollarama Montreal, Angus T Bakery, Army & Navy, Nofrills Clark Drive, Nofrills Denman St., Purebreads Mount Pleasant and Hastings East; Rexall Pharmacy, Mr. Bubbles Earl.