Masks and food are the most important life-saving necessities during the Pandemic. What Lotus Light is doing now is to distribute food and masks to the needy. Lotus Light is currently one of the most active charities on the front line of Covid-19 Relief. Since early April the charity has donated more than 250,000 pounds of foods and produces, benefiting tens of thousands of lower mainland families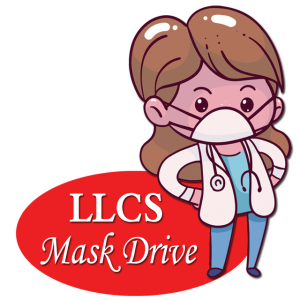 affected by the Pandemic. Lotus Light Charity Kitchen was established at the end of July to provide free simple meals to the homeless population in the community. To help the low income families cope with the government mandatory requirement to wear a masks in public transit, and the increasing requirements from business grocery chains such as Wal-Mart and superstore to wear a mask while shopping, Lotus Light launched the 12,000 free cloth masks for the needy project in late July to produce cloth masks to be distributed to the less fortunate in our community.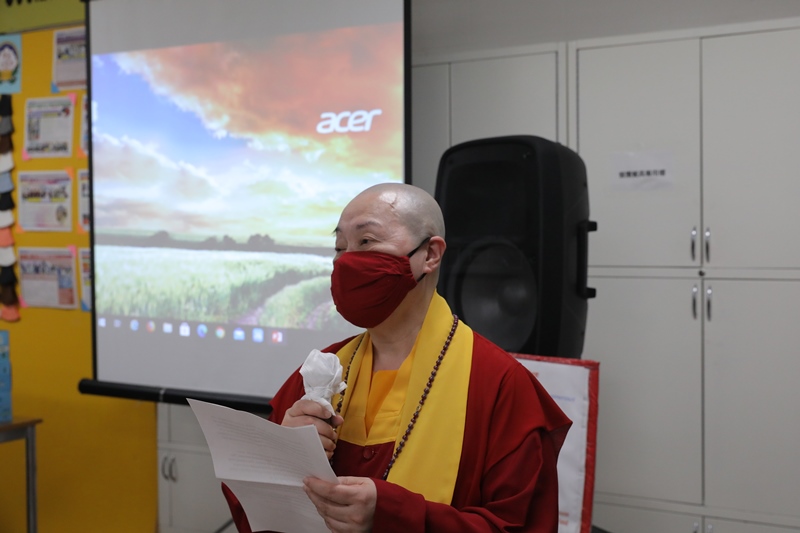 At 1 pm on September 5, 2020, Lotus Light Charity Society held the LLCS 2020 Covid-19 Relief Drive presentation, donated 12,000 free cloth masks and food supplies to organization in need at the charity activity hall. The guests attended including Master Lian Tzi, President of Lotus Light Charity Society, MP Jenny Kwan of Vancouver East, Mr. Andy Chen, Director-general, Taipei Economic and Cultural Office, Vancouver (TECO), and Mr. Jerry Hsia, Director of Division of TECO, Overseas Chinese Affairs Committee, Mr. Teng, president of the Chinese Benevolent Association of Canada, and representatives from low income families support organizations and local policing centre. 26 low income seniors and families service organizations and charities, local food banks, shelters and inner city schools received the free mask donation, including Growing Chef, Lord Baden-Powell Elementary, Alderson Elementary, Seaview Community School, RainCity Housing Society, Immigrant Link Centre Society, Strathcona Community Centre, YMCA, Richmond Food Bank, Covenant House Vancouver, Collingwood Neighbourhood House, Gathering Place Community Centre, The Salvation Army Belkin House, Burnaby Neighbourhood House, Inner-City Women's Society, The Salvation Army Boundless Vancouver, Catholic Charities Men's Hostel, Chinatown May Wah Tower SRO, Muslim Food Bank Surrey , City Reach, Britannia Elementary School, DTES Neighbourhood, Mavis Mcmullen Housing Society,  Kiwassa Neighbourhood House, Collingwood Community Policing Centre, Mammas for Mammas. The project benefits front line workers, low income seniors and families, youth, street homeless, caregiver and migrant workers, childcare worker, janitor and construction workers, and community volunteers.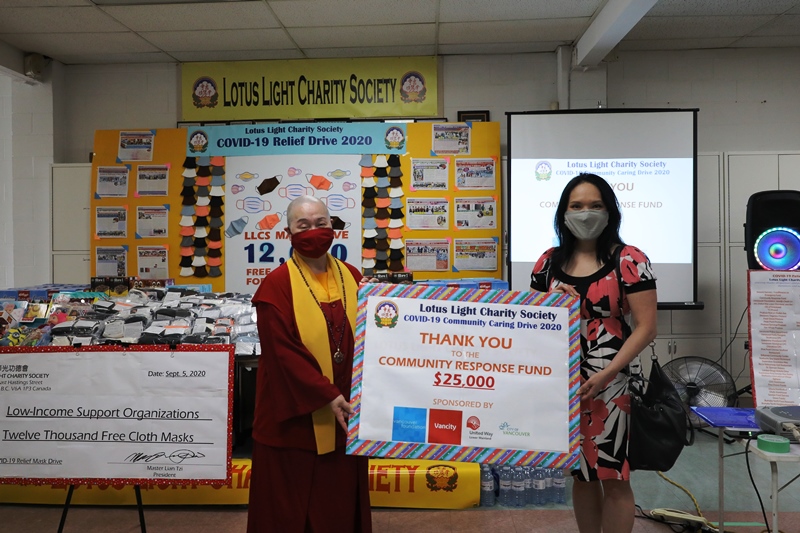 "The heart of Lotus Light Charity Society is helping the poor and needy – children, individuals, families, seniors and the homeless, especially during this pandemic," said Master Lian Tzi, president of the Lotus Light Charity Society, when she introduced LLCS' an initiative to make and distribute 12,000 free cloth masks for the needy.
MP Jenny Kwan praised Lotus Light has many initiatives and programs to support the community all year long, even in the Covid-19 Pandemic, Lotus Light has come forward to make these masks to support the community.
Andy Chen, Director-General of TECO thank Lotus Light's invitation to participate this meaningful community caring event. Mr. Chen said experience from Taiwan has proved that wearing a mask is important. He also donated masks and hand sanitizer to the charity programs on behalf of TECO.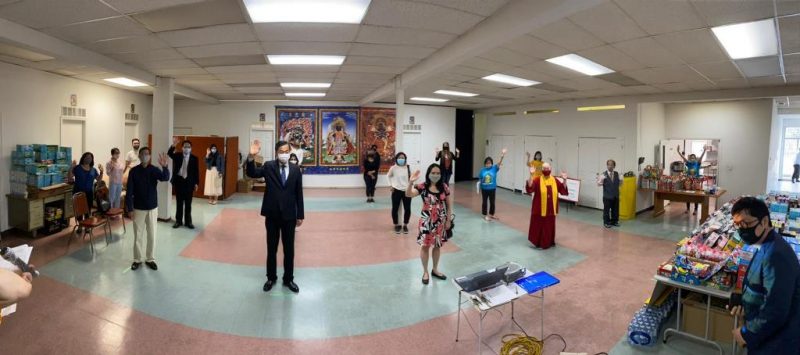 Lotus Light Charity Society wishes to especially acknowledge the generous support from Second Harvest / FoodRescue.ca, and from Vancouver Foundation, Vancity Credit Union, United Way Lower Mainland, and the City of Vancouver. Thanks to all  corporate and individual supporters and sponsors. And thanks to Superstore Grandview highway for sponsoring food items donated to low income families supporting organizations in this event and thanks to Salvation Army Belkin House for donation of toys to support single mother organization. Charity also held volunteers recognition to thank their supports and contribution in the event.
The event has followed the provincial health guideline closely and maintained the 2 metre safe social distancing. Organizations come to pick up also followed the health safe rule for drive-in. Lotus Light Charity would like to remind everybody: Wearing masks, keeping safe social distance and washing your hands often are the three elements to protect yourselves and others.
Lotus Light Charity Society Covid-19 Relief Drive accepts any monetary and in-kind donations from generous individual and corporate sponsors. Please contact Lotus Light for detail Tel: 604-685-5548, Email: llcsvancouver@gmail.com..Lotus Light Charity Society is registered charity: BN 14110-4893-RR0001. Thank you for your support during the pandemic!