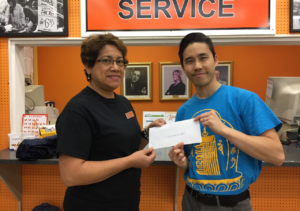 Army & Navy Vancouver Supports LLCS WCD for the 5th Consecutive Year
— October 9, 2017
0
9
Army & Navy Vancouver is always very supportive of our LLCS Annual Winter Charity Drive. Anita, the store manager is compelled by the wonderful works done by LLCS to help thousands of homeless each year throughout every winter. Thank you, Anita!
Related
Charity Focus
Recent News
Costco Richmond supports the homeless of Richmond and the Lower Mainland every winter and Lotus Light Charity Society expresses sincere thanks for exercising GOOD KARMA with LLCS once again! Act Now! Sponsor a Sleeping Bag and a Care Package together for $50 (or $20 for a care package) Related

Two thumbs up to Darryl and his Nesters Market Yaletown for their continuous non-perishable food donations to support local homeless agencies and Strathcona Community Centre's Food Security Program all year round! Plus, Darryl's thousands of snacks and beverages satisfies many homeless of the Lower Mainland in Lotus Light Charity Society's Annual Winter Charity Drive! Related
Be Friend with Lotus Light!
Archives